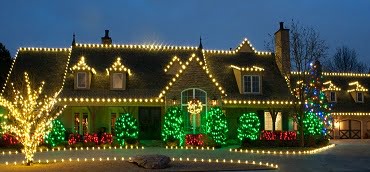 In northern Utah, Christmas lights are one of the best parts of the winter holidays. Everyone enjoys looking at holiday lights and having them around to brighten up their home.
What no one enjoys, however, is hanging the Christmas lights.
This year, why not skip the freezing fingers, slippery step ladders and the never-ending quest to untangle twisted wires – and let our team of professional holiday light installers take care of it for you?
Why Hire Someone to Hang Your Christmas Lights?
We're never busier, it seems, than we are during the holidays. You barely have time to grab a moment's peace, between shopping, decorating and baking cookies. Where's the time to relax and enjoy the season, or spend time with loved ones?
Hiring a company that hangs Christmas lights gets you off the hook and frees you up to enjoy more time doing what you love.
Don't forget the safety aspect of holiday decorating. Our northern Utah weather can be brutal around the holidays. Climbing ladders and messing around on the roof during this time of year is not only uncomfortable – it's downright dangerous.
Wouldn't it be nice to stay warm, dry and safe this year, and let an expert set up your Christmas lights?
Utah's Expert Christmas Light Hanging Service
At Reliable Tree Care, we're already experts at climbing, even in the most inclement weather. But we're also creative, experienced holiday light installers.
We will create a customized holiday lighting display just for you. This includes choosing decorations and accents that enhance your home's exterior design and layout. And, because we are certified arborists and tree experts, we will ensure that your trees remain safe and healthy while they twinkle away for the holidays.
Our holiday lighting services are remarkably affordable too, so turning your house into the envy of the neighborhood won't put a dent in your holiday gift-giving budget. And, even better, we provide support throughout the season. So, if a bulb burns out or a strand stops working, we'll be there on the double to make it right.
Salt Lake City's Christmas Tree Lighting Tree Experts
During the holidays, the Reliable Tree Care team does double duty as Christmas lights professionals as well as tree experts.
Our custom holiday light installation services are customized to your vision. You tell us your vision for your holiday decorations, and we take it from there. We provide everything – from the lights to the wreaths and garland – so you don't even have to dig in the basement, garage or attic.
We use commercial-grade lighting, LED bulbs and high-quality decorations, so your home will look elegant and festive for the entire season. And, once the holidays are over, we come back, take everything down and take it away. You never have to lift a finger, change a bulb or untangle a strand of lights.
The best part is how easy and affordable our all-inclusive holiday light installation service is.
Contact us today to learn more, or to schedule your Salt Lake City Christmas lights installation.